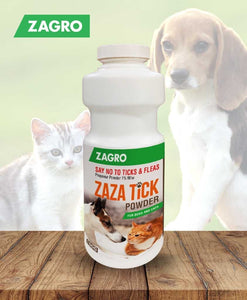 Zagro Health
Zaza Tick Powder for Dogs and Cats - 100g
$0.00
Regular price
$5.88
Unit price
per
Active Ingredient(s):
Propoxur  1% w/w
What is Zaza Tick Powder?
Zaza Tick Powder anti tick and flea powder for dog gives an effective solution to resolve all problems associate with ticks and fleas.
For: Dogs and Cats
Benefits:
Helps in controlling ticks, fleas and lice
Protects from different skin infestation
Can be dusted over bed or sleeping area to prevent infestation
Soothes skin irritation caused by flea bites
Easy to use ,simply dust over the body or bush
Regular use prevents reinfestations of ticks and fleas
For: Dogs and Cats
How it works:
Propoxur is a carbamate insecticide which kill ticks , fleas and lice by reversibly inactivating the enzyme acetyl cholinesterase, a neurotransmitter.
Cautions:
For Veterinary treatment only
Keep out of reach of children
For External use only
Not for Human Use
Do not use in dogs and cats having extensive superficial wounds on the skin, do not use on sick or convalescent animals
How to Use:
Dust the affected parts of the animal's body against the direction of hair
Stroke the fur to rub the powder gently up to the skin
Do not dust into eyes or nose
In the event of heavy infestation, the treatments may be repeated once or twice per week for an extended period
Pack size: 100g
---
Share this Product
---