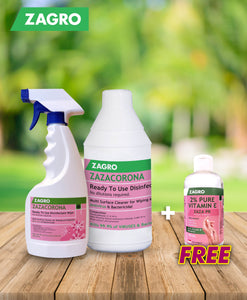 Zagro Health
Bundle Deal (500ml + 1L Zazacorona & get free Zaza PR)
Sale price
$37.00
Regular price
$25.00
Unit price
per
Buy 1 L + 500ml  of Zazacorona for $25 with Free Zaza PR
Buy Zazacorona multi-surface disinfectant surface cleaner. Deliveries within Singapore only.

Virucidal & Bactericidal
Ready-to-Use Disinfectant Wipe
Multi-Surface Cleaner
ZAZACORONA contains Glutaraldehyde and Alkyl Dimethyl Benzyl Ammonium Chloride in synergistic combination, which kill many groups of viruses. This combination of disinfectant is commonly used in healthcare facilities for disinfecting application.
Also available in 500mL and 1Litre:
ZAZA PR 2% VITAMIN E AVAILABLE IN 250mL
ZAZA PR is composed of 2% Pure Vitamin E and 70% alcohol, the perfect combination to inactivate viruses and bacteria while nourishing your skin at the same time. With ZAZA PR's non-irritating formulation, protect your hands from viruses and bacteria while also keeping it moisturized.
Accelerates healing of damaged skin
Reduces UV damage to skin
Inactivates viruses and bacteria
Skin-friendly
Keeps skin moisturized
Non-irritant
ZAZA PR 2% Pure Vitamin E has anti-oxidant properties that can accelerate the healing of damaged skin and keep it moisturized, while the 70% alcohol composition kills viruses and bacteria, protecting you from diseases.
With ZAZA PR, hands are protected from viruses and bacteria while still keeping it soft and moisturized.
SHIPPING TERMS:

* Orders for shipping are processed on the next business day (Monday - Friday only, excluding holidays).
* Shipping fee is calculated based on total weight of items.
* For orders weighing 30kg and above, only self-collection is available. If you prefer your items to be shipped, please complete orders separately, with each order weighing less than 30kg. (Please note that total weight includes product container).
* Singpost's delivery only available on working days, from Mon to Fri 9am to 6pm and Sat 9am to 12.30pm, excluding Sundays and Public Holidays.
Please note that due to the COVID-19 situation, all Singapore deliveries may take longer than usual. We seek your understanding in this difficult time.
SELF-COLLECTION TERMS:
Time: Tuesday and Thursday only (3:00PM to 5:00 PM only)

Location: Zagro Global Hub, 5 Woodlands Terrace, Singapore 738430
* Orders are processed and fulfilled on the next business day.
---
Share this Product
---