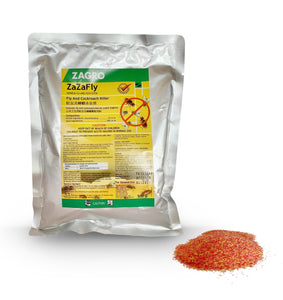 Zagro
Zazafly (Fly and Cockroach Killer)
$0.00
Regular price
$25.00
Unit price
per
Fly Bait and Cockroach Killer
ZaZaFly is a granular scatterbait against several multi-resistant fly strains, cockroaches and ants including those which have become resistant to other organophosphate based compounds, pyrethroids and methomyl. It is a fast and effective fly control tool and is a registered product to National Environment Agency.
The fly and cockroach bait contains azamethiphos, a powerful stomach poison to flies, cockroaches and ants. It also contains pheromone that helps attract adult flies to the bait. It is easy, convenient and effective to use. There is no mixing required and no environmental risk involve.
Dosage and Administration 

ZaZaFly Fly Control & Cockroach Bait

 :

Recommendation for Controlling Flies & Cockroaches
Scatter ZaZaFly at the rate of 2gm. per m2 onto clean and dry area where flies congregate.
It can be put into plates and place in strategic locations where flies are present. e.g livestock facilities, garbage bins, private homes, restaurants. Use it whenever flies are a problem.
Re-apply as soon as the baited areas are covered with dead flies or after 4 weeks.
Note: Zazafly does not control blood-sucking flies
Storage Recommendation:
Store in a cool and dry place; protected from heat and light.
SHIPPING TERMS:
* Orders for shipping are processed on the next business day (Monday - Friday only, excluding holidays).
* Shipping fee is calculated based on total weight of items.
* For orders weighing 30kg and above, only self-collection is available. If you prefer your items to be shipped, please complete orders separately, with each order weighing less than 30kg. (Please note that total weight includes product container).
* Singpost's delivery only available on working days, from Mon to Fri 9am to 6pm and Sat 9am to 12.30pm, excluding Sundays and Public Holidays.
Please note that due to the COVID-19 situation, all Singapore deliveries may take longer than usual. We seek your understanding in this difficult time.
SELF-COLLECTION TERMS:
Time: Tuesday and Thursday only (3:00PM to 5:00 PM only)

Location: Zagro Global Hub, 5 Woodlands Terrace, Singapore 738430
* Orders are processed and fulfilled on the next business day.
---
Share this Product
---